Open Studios - Melba Highway
12 & 13 October 2019
11 Artists - various styles and mediums
​
699 Steels Creek Road,
Steels Creek
0407 369 144
The Steels Creek Open Studio is a combined group from Steels Creek and the Yarra Glen Living and Learning centre. There are ten of us participating and we will show our work, our working methods, and how community facilities can work so successfully as a studio where people develop their skills. We paint for pleasure and we often surprise ourselves at the quality and diversity of the art we produce. We are keen to share our enthusiasm and experience with the wider community.
We started in the early 90's as a small group of friends who met weekly on Thursday afternoon at the Community Centre for some dedicated time to pursue and share our pleasure in art. Over the years the group has grown in number and we "work" in a range of media including watercolour, gouache, acrylic and pastel; some make linocuts and others are experimenting with scratch board.
The Centre becomes our studio and we just enjoy the friendship and the art. Some of us have exhibited (and sold pictures) in local shows and galleries, and we held a group exhibition at Gallery 34 in Yea in 2013.
​
There is no formal structure or selection of members, anyone who wants to try out their art skills is welcome to come along any Thursday afternoon between 1.30 and 4.30, but you do need to bring your own materials and equipment. There is also a $2 contribution to the Community Centre.
​
Members who are in Open Studios:
Malcolm Calder
Ivan Filsell
Jenny Tetlow
Anthea Forbes
Helen Mann
Glenda Tjepkema
Carolyn Kalma
Karen McNamara
Kaye McRae
Iva Day
Norma Rose
Contact :
Malcolm Calder: 5965 2372
steels creek community centre art group.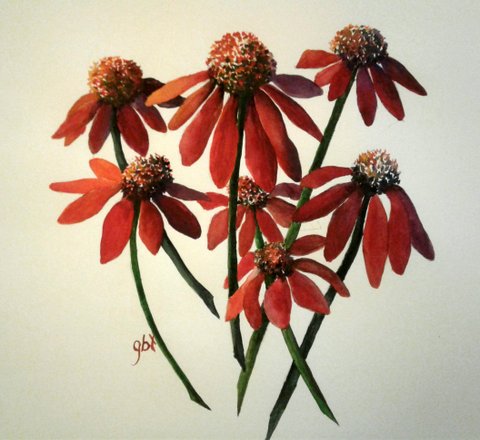 Glenda Tjepkema Red Echinacea
Malcolm Calder New Holland Honey Eater
Steels Creek art group
Jenny Tetlow Clematis Freckles
Ivan Filsell
Anthea Forbes Giraffe
Glenda Tjepkema Thats the spot
Helen Mann Landscape
Barak
FullSizeRender_1
Malcolm Calder gums
Steels Creek Art Group
Malcolm Calder toadstools
Anthea Forbes 2
Steels Creek Art Group
Jenny Tetlow 2